Slack Community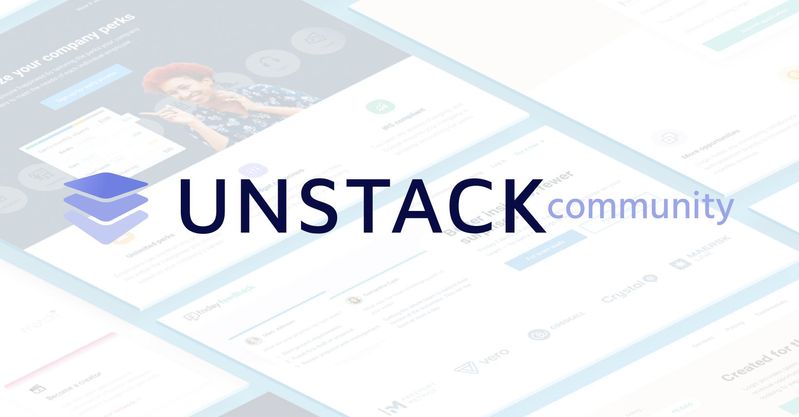 About the community 💬
The Unstack Slack Community is the home of all our Unstackers, everyone who is a user regardless of their plan, get's an invite! If you haven't yet gotten an invite and want in, use this form with your Unstack account's email and we'll invite you: https://unstack.typeform.com/to/CCqn9E.
Why Slack? 📱
We've bounced around platform-to-platform, however, the one thing we've always had issues trying to find is a platform that holds to our goal of the community: not annoying, easy to connect with others, and truly human-focused.
And, when used right, Slack does just that! Speaking of, let's go through Best Advice for Slack:
1. Leave the channels that are bugging you, we disabled the leave notification so no one will know! (message an Admin if the general non-excitable channel is bugging you so we can step in)
2. DND (do not disturb) on by default -- as a busy team we do this. However, we auto turn on DND for all Unstack community members from 5 pm to 10 am EDT.
3. Explore channels! This is huge, a lot of channels exist and we never auto-add you to them! All channels (except partner channels) are public and required to be public.
Navigating the community 🗺
Once you have joined Slack it's important to navigate the different types of channels we have in order to fully get the most out of it.
We have four different categories of channels: Fun, Beginner, Advanced, and HelpMe:
#fun- 🎉
#fun- channels are for networking, chatting about something you love, or sharing ideas!
#beginner- 🆕
#beginner- channels are for discovering things to do with Unstack, navigating the platform, getting inspiration, and having fun! It's a place for Q&A.
#advanced- 🛠
#advanced- channels are for topics that Unstack can help with, but isn't setup for, natively. Like: coding, Javascript, cool API stuff, and more!
#helpme- ✋
#helpme- channels are for when you don't know what to do. Simply go to the channel that is working with the part of the app you need help with, or go to #helpme-lost if you don't know. Drop a question and either support or an advanced Unstacker will get back to you.
Rules of the road 🚖
Be nice, always.
No sharing insider info with the world.
No inappropriate language.
No obvious self-promotion unless it's in #fun-selfpromo.
No unwanted private messages.
Why should I be active in the community? 🚀
We'll soon be releasing a partner program. And, as part of Unstack's credo, we love helping others and want our partners to do that same! So, if you're looking to get paid for working with Unstackers and making referrals, the best way to get an invite or get approved is to be active.
How do I join the partner channel? 🥳
You'll have to complete training and become a verified partner. Go ahead and ping our support team so they can connect you with the right person!
Permissions 🔐
What you can do
Edit messages
Add channels
Join any channel
What you cannot do
Delete messages (message an admin)
Reporting a user 🚓
Why? Please don't feel scared to report activity you think is suspect. Communities like this rely on community policing. If something is bothering you report rather than just leaving.
How? Report via this form - https://forms.gle/QQdcuu3Gt8qAaHW36